Single serve
SDS heeft begin 2014 WeLLDesign geselecteerd als voorkeursleverancier voor Design & Engineering van het SDS Sparkling Drink Systems. Dit baanbrekende innovatieve bedrijf ontwikkelde een revolutionair concept voor een single serve frisdrankensysteem, waarbij het gebruik van CO2 cilinders overbodig is.
Infinite variation
SDS created a user and ecofriendly system for the creation of an infinite number of healthy soft drinks. So beating COKE and KOERIG who have announced a similar cylinder free system to be introduced by the end of next year!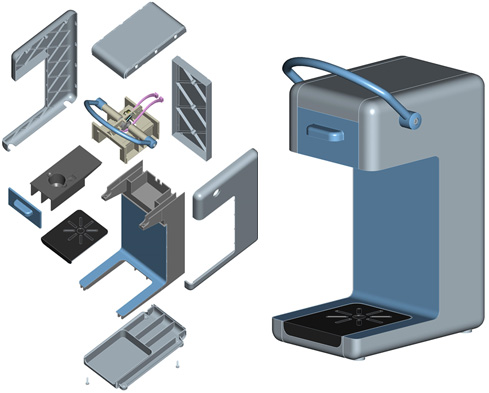 WeLLDesign is erin geslaagd binnen een tijdsbestek van 5 maanden de eerste werkende prototypes op te leveren. De ontwikkeling omvatte zowel de capsule als ook het design en de engineering van diverse apparaten en toebehoren. Van een klein handig verloopstuk voor op een fles tot luxueuze vrijstaande machines.
To meet the short lead time, every possible development tool has been used. Consequently FEM analyses mold flow simulation, fast prototyping and soft tooling.
Sourcing
Met ons vaste en efficiënte netwerk zijn alle mijlpalen binnen de gestelde deadlines bereikt. WeLLDesign heeft bovendien met succes de sourcing van de capsule fabrikant en loonafvuller verzorgd, welke door haar wereldwijde netwerk voor de nodige opschaling kan zorgen.