WeLLDesign realiseerde het verpakkingsontwerp van de Kazem Nefera. Een top of the line verpakking en dito display.
Schoonheidschirurg dr. Farid Kazem ontwikkelde Nefera, een lijn huidverzorgings-producten met een geheim en uniek ingrediënt. Kazem Skincare wordt gezien als een vernieuwend merk in de wereld van cellulaire antiveroudering therapieën. Kazem Skincare is opgericht door Nederlands plastisch chirurg Dr. Farid Kazem. Het merk is onderweg om een van de wereldleiders te worden op het gebied van huidverzorgingswetenschap. 
De Nefera productlijn wordt exclusief verkocht bij de luxe cosmeticaketen Skins Cosmetics. Doel: een hoge attentiewaarde voor het vanuit de achtergrond verlichte schap.
In collaboration with graphic design consultancy Vormers our team created ingenious high-end packaging, which perfectly links up the 2D and 3D designs.
Het product toont drie separate ringen, staand naast elkaar. Door het licht van achteraf ontstaat een sprankelende schappresentatie. Bij aankoop vormen de transparante ringen de verpakking, met elkaar verbonden door kleine powermagneten. Elke ring bevat een doseerpen met 10 ml inhoud van de crème. Door de modulaire opbouw zijn verschillende hoeveelheden en combinaties mogelijk. Dit ontwerp geeft dr. Kazem een chique on-shelf display en verpakking in één, die de exclusiviteit van de producten benadrukt. WeLLDesign is verantwoordelijk voor het idee, het 3D ontwerp, de engineering en de on-shelf presentatie.
Het spuitgieten van de volledig transparante ringen vormde een uitdaging. Het zou ontoelaatbaar zijn dat vloeilijnen zichtbaar zouden zijn. Er is gekozen voor het materiaal ABS en de toepassing van een drietal tunnelaanspuitingen aan de binnenzijde van de ringen.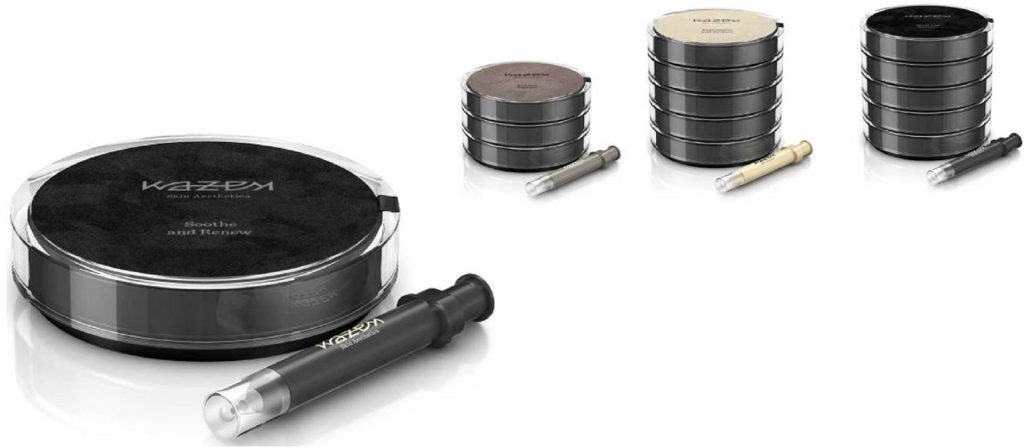 "Een perfecte combinatie van nanotechnologie en het wonder van de natuur. Vier volmaakt uitgebalanceerde producten bieden u een totale renovatie en bescherming van de huid."