Dynnox
The unique Dynnox was al enige tijd in ontwikkeling als niet werkplaatsproduct. Dynnox beschikte over een prototype van de MLR. Maar de wens was de kostprijs te halveren: om een sterkere businesscase te krijgen en om de stabiliteit te optimaliseren.
WeLLDesign analysed the existing construction, its components and assembly. Then we did further product development. We projected basic solutions to improve tolerance, cost price and stability – for a batch size of 500 – 1000 units per year. On this basis, a new prototype was developed. It is modular, with a chassis with automatic folding legs, and an ingenious locking mechanism.
The modular design of the standard structure with upper structure module offers great flexibility and desired reduction of cost price.
The upper structure module determines functionality: for example, it can hold a beer tap, compressor or welder while maintaining user-friendliness and stability. This solution helps Dynnox serve a wide variety of clients at a competitive price.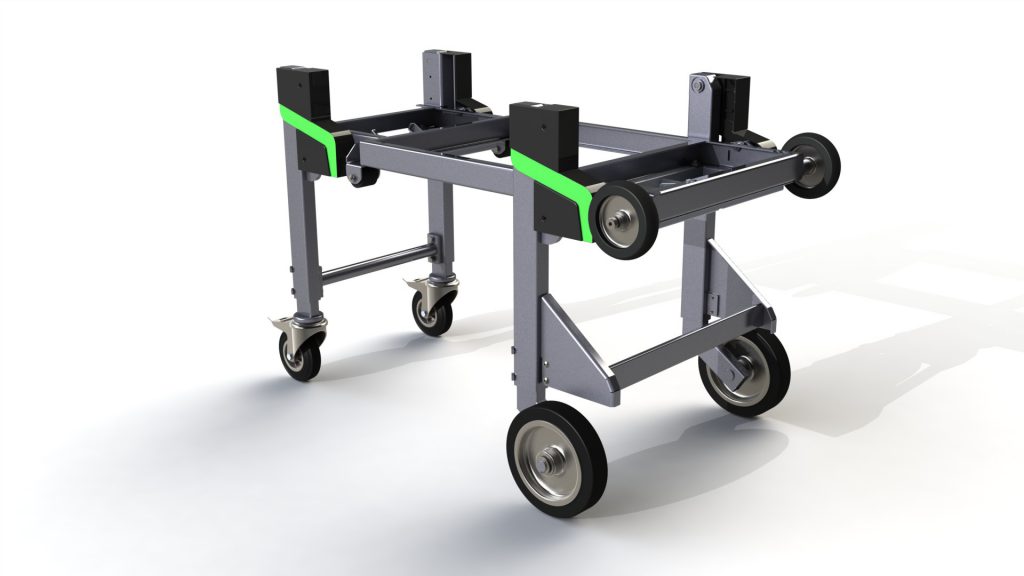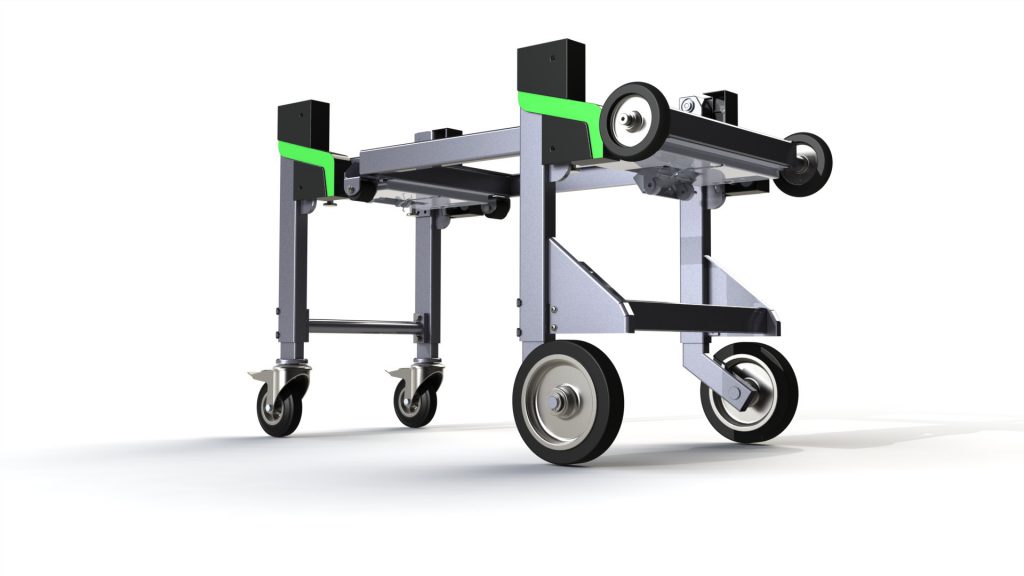 IQ Floor
For exhibitions and fairs, often raised flooring is used with extraction ports for cables and pipes. Many floor systems, however, are too high and too pricey. And they require costly professionals to install the flooring.
Een doorlaat onder de vloer van een paar centimeter is meestal voldoende. Samen met La Senzo (een professionele ontwerper van beurspresentaties) werd 'The Lowest Raised Floor of the World' ontwikkeld. Via brainstorm- en schetssessies ontwikkelde WeLLDesign de eisen en wensen van dit werkplaatsproduct. Zo werd het concept geboren. Tijdens dit traject werden 1 op 1 modellen gemaakt, getest en geoptimaliseerd en vervolgens vertaald naar in serie te produceren producten.
The IQ Floor exists of plywood panels of 1 m2. Panels are quick and easy to install by just one person, using plastic connectors that secure the distance to the floor. Panels may be personalised. The product was market launched during Euroshop 2011.
PC Cox
PC Cox is leading manufacturer of hand-held caulking guns. The company was looking for a superior ergonomic solution for its new product line of high-end caulking guns.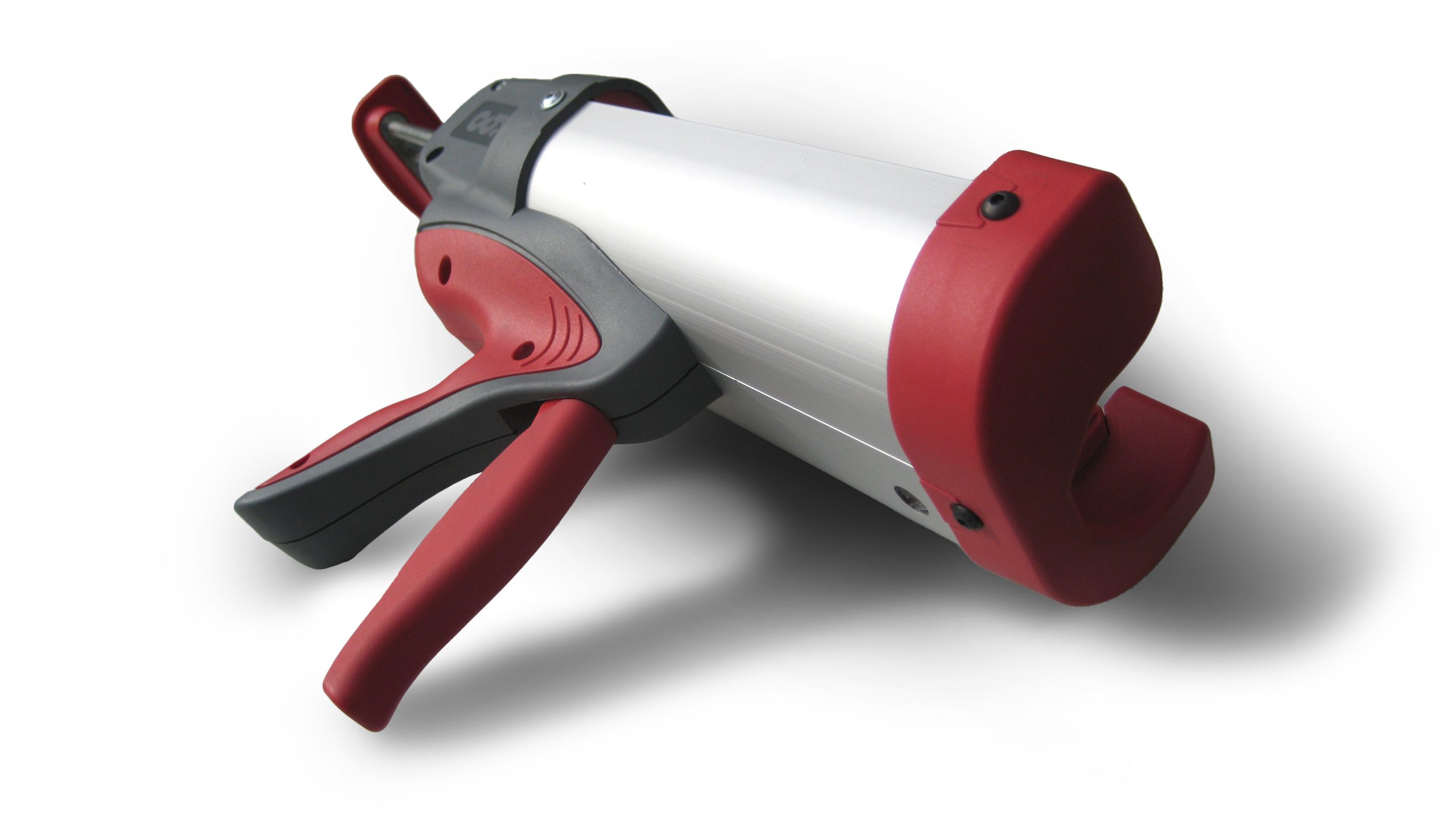 WeLLDesign developed the design and ergonomics of the handle of the gun. Positioning the handle below the centre of gravity, spares impact on the hand.
The grip is divided in three zones: the upper part of the soft-touch grip bounces on the hand, enabling the user to balance his caulking gun. The front piece helps to manoeuvre. The rear piece has a considerable surface that absorbs pressure of the hand. Eclipse can be operated with both fixed and clip together cartridges. The development of these sustainable and light-weight caulking guns means a major ergonomic step forwards – surpassing the competition.
The caulking guns are manufactured from quality materials including aluminium and fibre-reinforced plastics.
Rox Cable Reel Trolley
ROX Cable Reel Trolley. Distributing heavy cables on construction sites is labour intensive and time consuming. Livin Dethier invented the cable reel trolley and asked WeLLDesign to be her partner to transform and technically develop her idea into a well-designed product.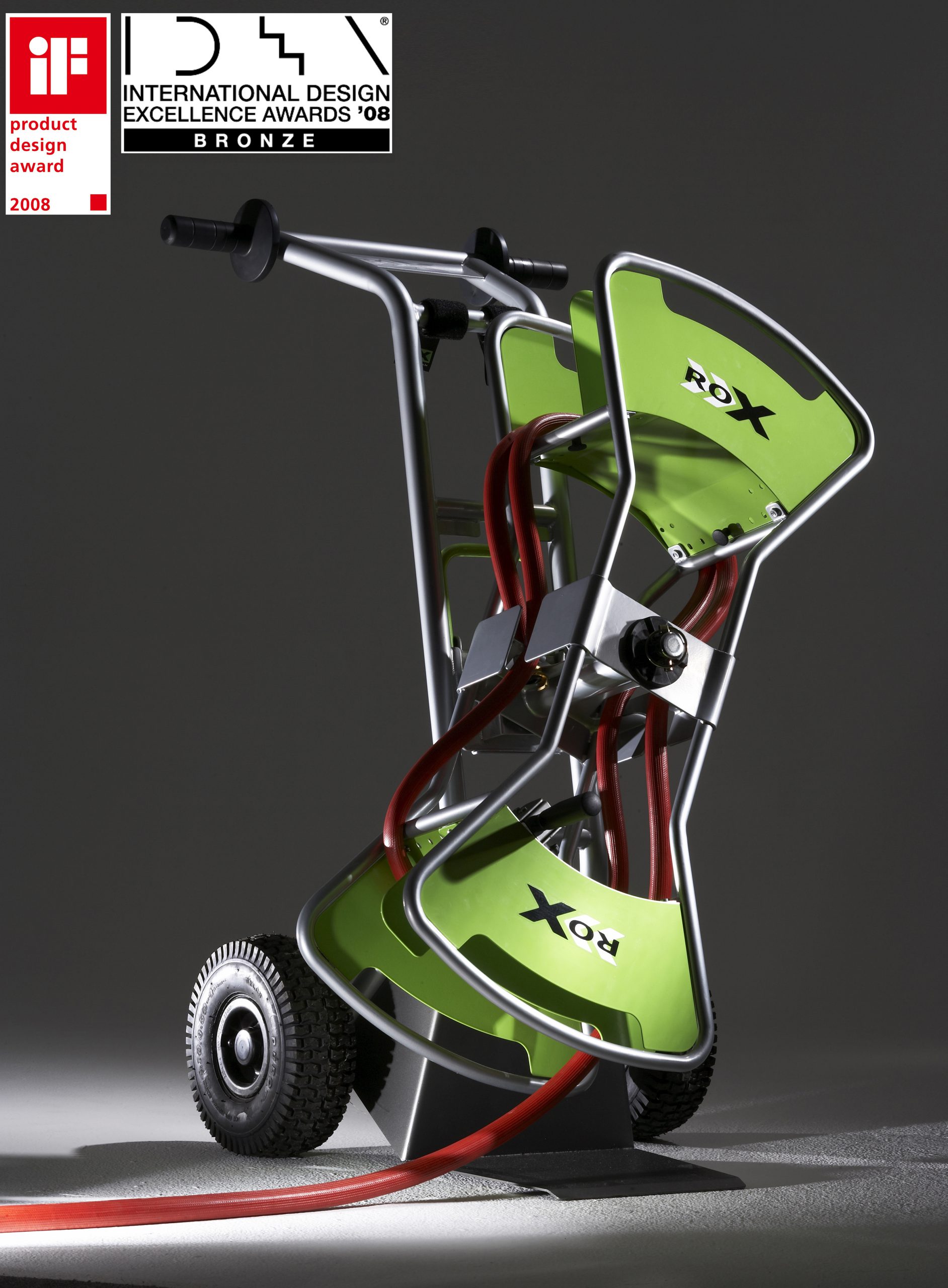 Key requirements were stability, usability, solidity, and production in relative small batches. WeLL Design realised the cable reel trolley by constantly testing and optimising mock-ups: from proof of principle to a fully functional prototype. Concept development is nothing new for WeLL Design. The patented, robust reel can (un)roll all cable types and is user-friendly and ergonomic.
WeLLDesign also took care of production outsourcing to China.
The Rox Cable Reel Trolley Cable Reel Trolley brings immediate time and cost savings plus better working conditions: first two men were needed to distribute the cables (weighing about 100 kilos), now just one.
More industrial design
A distinctive design, fitting the ambitious and contemporary brand Mors-Smittwas the main requirement for this new automatic voltage detector.
Using 2k injection moulding allowed great freedom of form. The result was a highly distinctive and functional design that met the strict dust and water protection standard IP64.
WeLLDesign also took care of the basic engineering to guarantee optimal product design.
When Voltspotter is held near a voltage source, the detector emits a bright red LED signal and an acoustic signal. Voltspotter is a non-contact voltage detector, which means maximum safety for user and installation. This makes it ideal for professional use.
For Bos Elektro frequently asks WeLLDesign to design electronic technical product to be used on construction sites.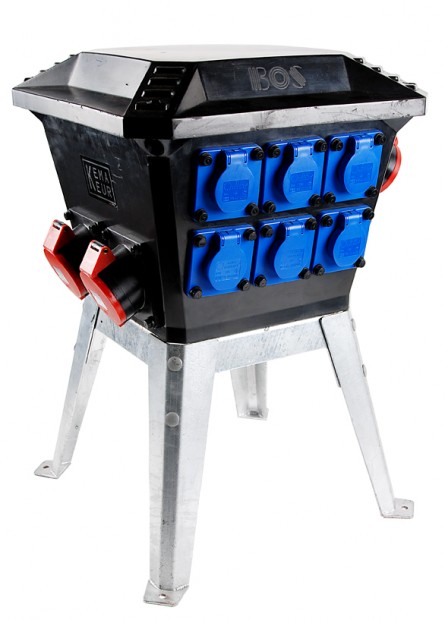 Wagner and TRS Transportkoeling are other examples of products that are being used at or near the spot where work needs to be executed. Ergonomics, functionality, usage by many different operators and a low cost focus are the most important fundamental ideas for product development.