WeLLDesign heeft voor Dreumex verschillende zeepdispensers ontwikkeld. De One2Clean en de Omnicare. Beide dispensers zijn gebaseerd op het touch-free gebruik. Dit geeft niet alleen comfort aan de gebruiker, maar zorgt ook voor een beter, meer frequent handenwassen.
Design brief One2Clean
Eén zeepdispenser geschikt voor elk type industrie, voor elke handverzorging, van heavy-duty gel tot pasta – dat vormde de uitdaging voor de ontwikkeling van de Dreumex One2clean dispenser.
WeLLDesign heeft uitgebreide ervaring met dispensing systemen en ontwikkelde voor Dreumex het One2Clean zeepdispenser concept. Een touch-free bedieningsconcept dat in elk type industrie voor schone handen zorgt zonder dat iedereen dezelfde knop hoeft aan te raken.
Its touch-free operation offers optimal hygiene. In collaboration with electronics designers, a low-energy drive was created. In close consultation with the mould maker, WeLLDesign minutely worked out all plastic and metal parts in 3D CAD (SolidWorks).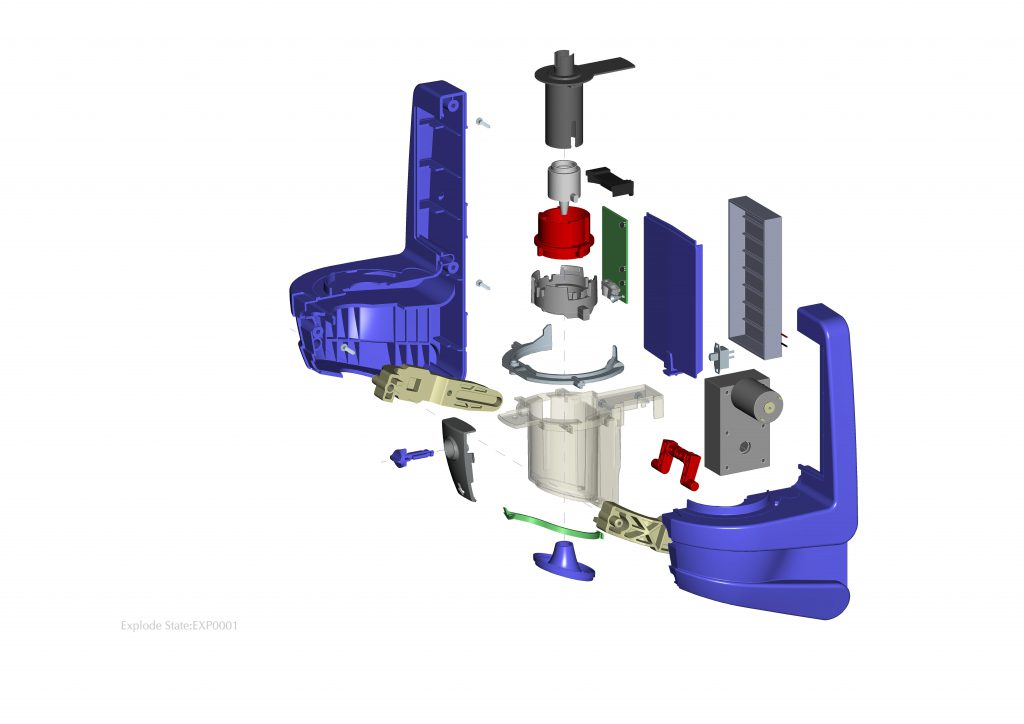 Een infrarood sensor activeert de robuuste dispenser. De sensor is ongevoelig voor storende invloeden van buitenaf. De eenvoudig te monteren dispenser bezit een zeer krachtige pomp en een speciale zuiger die geen residu achterlaat.
Zeepcassettes verwisselen gaat vlot en eenvoudig. Met een enkele draai van 90 graden zit een nieuwe cassette er alweer op. De dispenser afsluiten met een speciale sleutel om misbruik te voorkomen en de dispenser is klaar voor de volgende wasbeurt. Plaatsing gebeurt gemakkelijk. De beugel is onzichtbaar zodra de dispenser erop geplaatst is, waardoor deze lijkt te zweven.
De One2Clean
With this dispenser, and their wide range of soap and gel, Dreumex has a unique proposition in the market of industrial hand care products.
Dreumex One2Clean is een totaalconcept dat het driestappenplan van beschermen, reinigen en verzorgen faciliteert. De eenvoudige oplossing voor optimale hygiëne en gezonde, pijnvrije handen. Dreumex One2Clean is een touch-free dispenser die het risico op kruisbesmetting via de dispenser elimineert. De automatische dosering zorgt voor efficiënt gebruik.
De Omnicare zeepdispensers
Dreumex ontwikkelde samen met WeLLDesign de Omnicare automatische zeepdispenser met Bag-on-Valve cartridges: een revolutionair systeem dat bijna alle redenen elimineert om je handen niet te reinigen. Met deze touch-free automatische dispenser verkleint u het risico op kruisbesmetting en spoort u mensen op hun persoonlijke hygiëne te letten.
Onderzoek* toont aan dat slechts 77% van de mensen hun handen wast na gebruik van het toilet. Dat maakt kruisbesmetting de belangrijkste oorzaak van veel ziekten, met alle gevolgen van dien. Een goede handhygiëne is essentieel voor elke werkplek om zowel de verspreiding van ziektekiemen als kruisbesmetting te voorkomen.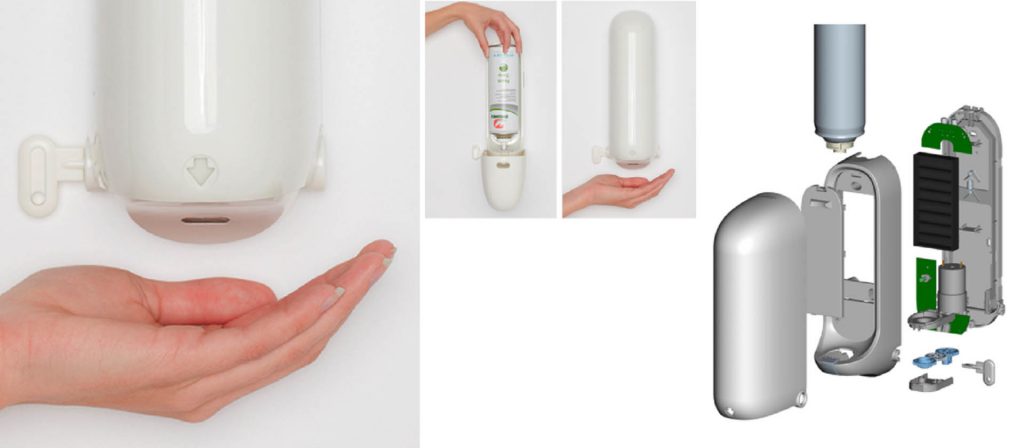 Het Omnicare systeem wordt in verschillende industrieën ingezet en is een veelgebruikte zeepdispenser in de horeca, de voedingsmiddelenindustrie, sport- en gezondheidssector, maar ook in kantoren, verzorgingstehuizen en kinderdagverblijven. Dreumex Omnicare kan worden gebruikt in combinatie met onze grote verscheidenheid aan zepen.
Dreumex Omnicare biedt de laagste kosten per keer handenwassen en bespaart u jaar op jaar geld. Door gebruik te maken van de Bag-on-Valve Instant Foam Technology worden de geconcentreerde zepen tijdens het doseren omgezet in een rijk, stevig schuim. De zeeppatronen zijn bovendien volledig recyclebaar, worden 100% opgebruikt en hoeven niet te worden aangeraakt door de gebruiker.