A clear view for visionaries
SPECSTACULR™ lost het probleem op dat elke brildrager maar al te goed kent: slecht zicht door vieze glazen. Een vingerafdruk. Een veegje make-up. Het beetje huidvet dat zich bij aanraking van de wenkbrauwen achterlaat op het glas. De remedie: een brillendoekje pakken en poetsen. De enige manier om je brillenglazen zo schoon te krijgen dat je er weer plezierig mee kunt kijken. Een manier die wel twee vrije handen vereist en daarom bijvoorbeeld niet tijdens het rijden gedaan kan worden. Vieze brillenglazen achter het stuur? Jammer dan. 
SPECSTACULR™
SPECSTACULR™ heeft hier dé oplossing voor. De SPECSTACULR™ brillenkoker maakt de bril weer stralend mooi schoon. De gebruiker doet de bril in de koker en de brillenglazen zijn dan ingeklemd tussen kleine borstels. Met één enkele druk op de knop worden de glazen automatisch gepoetst. Zonder toevoeging van sprays of andere hulpmiddelen. Je bril wordt droog schoongepoetst. 

Prototyping
WeLLDesign heeft aan de wieg gestaan van SPECSTACULR™. Met behulp van intuïtieve en systematische ideevindingstechnieken, zoals resp. brainstorming en morfologie, heeft WeLLDesign samen met de klant het optimale werkingsprincipe gevonden.  

Different prototyping stages. Each complementing the previous version to test the next piece of the cleaning puzzle
Via intensief en systematisch testen – in een iteratief proces – met verschillende prototypes. Totdat we greep kregen op alle variabelen: van materiaalkeuze tot poetsbeweging, van glasdruk tot poetssnelheid en poetsduur. Bij POP 4, het vierde Proof of Principle, hadden we het juiste principe te pakken. Dat prototype bewees dat een bril van elk willekeurig formaat herhaaldelijk veilig schoongemaakt kon worden. Zelfs met contaminaties die in het dagelijks leven vrijwel niet voorkomen. 
Exploded view van de SPECTACULR™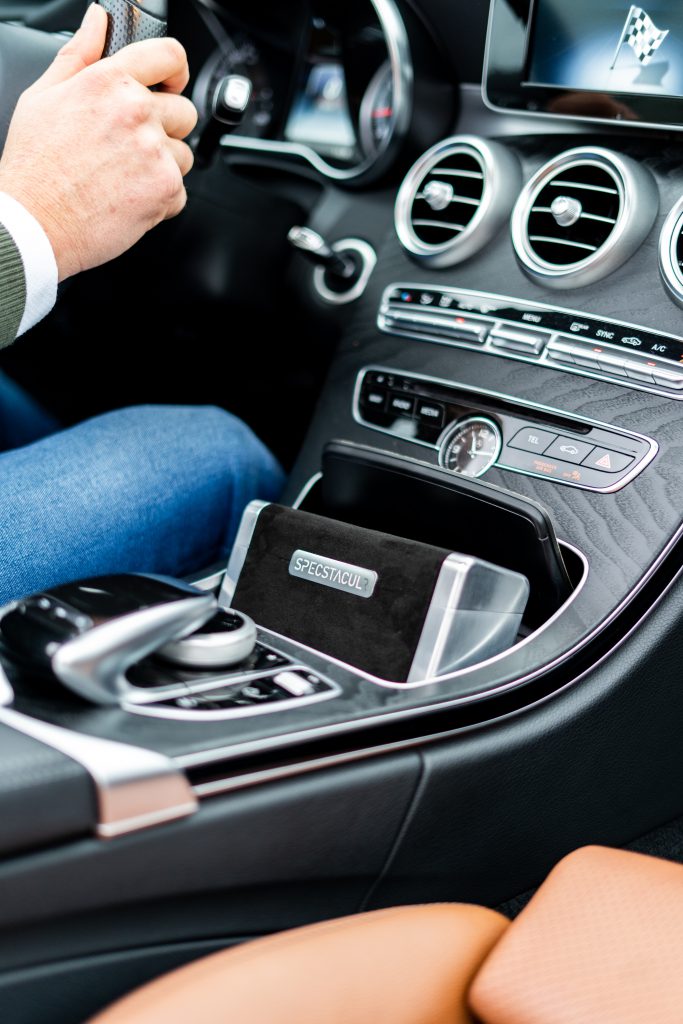 SPECSTACULR™ past perfect in de middenconsole. 
Lancering website SPECSTACULR™
De SPECSTACULR™ brillenkoker is nu in het stadium om alle functies te integreren in een productieprototype. Daarvoor worden investeerders gezocht.