Royal Park live is a series of special summer evening concerts in the gardens of the Soestdijk Palace. Dutch and international artists give their best performance for a special concert in a royal setting.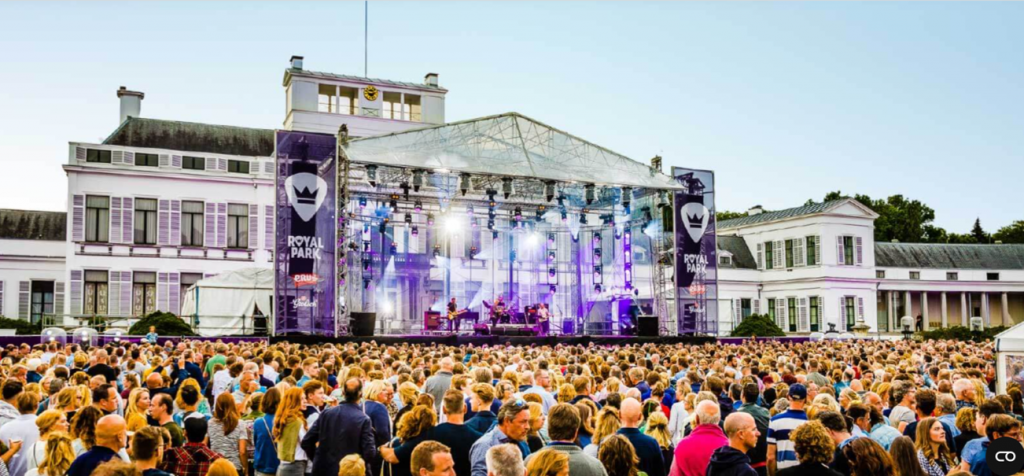 During Royal Park Live, the music festival in the front yard of Soestdijk Palace, some sustainable startups test their innovations for the first time. These tests are guided by Innofest. Innofest helps startups to test their innovations in the most realistic setting possible. this way, entrepreneurs get feedback, which they can use to make the step towards market introduction faster and more succesfull. All tests are part of the ValidatieLab Utrecht and use themes such as 'healthy building environment' and 'the energy transition'. 
Nine out of ten innovations fails. Mostly because of too little tests of the product or prototype. Innofest wants to change this by giving entrepreneurs the chance of testing their innovation in reality. "festivals can be considered as a mini city. Therefore, it is an ideal place for innocation. Suddenly, you have thousants of consumers and a large infrastructure all together. This makes it the perfect spot for a startup to test its innovation. Whether you want to realy test your innovation or just want to come into contact with consumers. Visitors of festivals are usually very open for this. They have the time. In their regular life, they are in a hurry," says Innofest director Linda Vermaat.
The event doesn't just focus on giving a nice programme. Sustainability is important as well. The cup reuse system is being employed. This system gains popularity in a rapid pace. It results in less cups being thrown away. Besides this, Royal Park Live works together with Innofest. Innofest gives entrepreneurs the chance to test their innovative prototypes in a real environment. Royal Park Live serves as a first testing location for five startups. Each of these startups tests their innovation on the public to then make more impact with the collected data.
Together with Innofest WeLLDesign connects the unique, super sustainable PHOMI wall covering to this unique
To reduce the CO22 footprint of the building sector, WeLLDesign introduces PHOMI. This product has a very low carbon2and nitrogen emission. It's light weight, flexible, strong, very thin, and water, frost, and heat resistant, shock absorbing, 100% recyclable, and easy to mount. Next to that, it is also beautiful. During Royal Park Live, we want to know what people think about this product .
From the 1st to 3rd of July, you can PHOMI experience PHOMI on their way to and from the Royal Toilets.