WeLLDesign introduceert PHOMI, een veelbelovend, innovatief biobased en circulair gevel- en wandbekledingsproduct. PHOMI BENELUX maakt deel uit van de wereldwijde PHOMI-groep. Sinds december 2021 is WeLLDesign de fabrieksvertegenwoordiger van PHOMI MCM en zet zich in om het biobased MCM-bouwmateriaal (Modified Clay Material) op de markt te introduceren.
We zijn dan ook zeer verheugd dat PHOMI MCM als eerste bouwproduct in de Nationale Product Catalogus de maximale duurzaamheidsscore heeft behaald: vijf planeten!
Het product is op basis van duurzaamheid, circulariteit, en gezondheid gemeten en beoordeeld volgens het Global Sustainable Enterprise System (GSES). PHOMI beschikt over een uitzonderlijk gunstige LCA en EPD (MKI m2/jaar € 0,0063).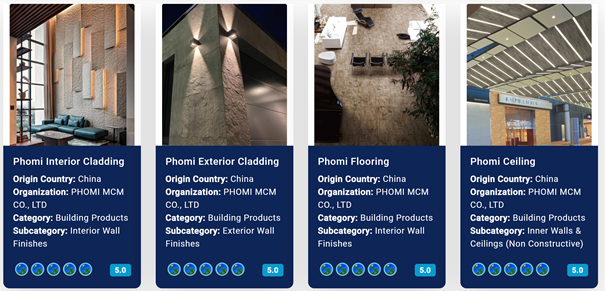 LCA en EPD
Aan de score liggen onder meer de in de bouw bekende LCA- (Life Cycle Assessment) en de EPD-(Environmental Product Declaration) beoordelingen ten grondslag. De LCA-analyse is een methode om de milieubelasting van de volledige levenscyclus van een product te bepalen, dus van winning van de grondstoffen, via productie, transport en gebruik, tot en met de afvalverwerking of bewerking voor hergebruik. De EDP drukt de milieu-impact van een product uit over de levensduur van een gebouw (60 jaar).
Maximale score voor PHOMI
Tot nu toe was 3,5 de hoogste score op het GSES-platform, die wordt uitgedrukt in 'blue planets', terwijl de gemiddelde score rond de 2 ligt. PHOMI producten hebben een maximale score van 5 behaald. "We zijn als GSES System bijzonder trots dat PHOMI producten 5 planeten hebben behaald en daarmee als eerste de hoogst haalbare score in de Product database. PHOMI is daarmee koploper in de bouwsector met een zeer innovatief product", zegt Kelly Ruigrok, CEO GSES System.
Biobased bouwmateriaal
PHOMI produceert en levert flexibele ecotegels, geschikt als wand- en gevelbekleding, dus voor binnen en buiten. De technologisch hoogstaande producten zijn gebaseerd op klei: Modified Clay Materials (MCM). Met de uitstraling van steen, natuursteen, hout, beton, metaal, geweven structuren en leer. PHOMI-producten zijn waterafstotend, vorst- en hittebestendig, schok- en impactbestendig, brandveiling en niet-ontvlambaar, duurzaam en 100% recyclebaar. Het is verkrijgbaar in een bijna oneindig aantal uitvoeringen voor elke gewenste sfeer. PHOMI is lichtgewicht, flexibel en in veel uitvoeringen ultradun (2 mm).
PHOMI heeft ook andere eigenschappen die in een materiaalselectie relevant kunnen zijn. Eén daarvan is dat het materiaal – bij toepassing in binnenruimten – vocht en geuren reguleert, terwijl virussen er minder goed kunnen gedijen en de luchtkwaliteit verbetert. Ook draagt PHOMI bij aan een aangenamere akoestiek. Door de lage productietemperatuur is de primaire CO2-footprint extreem laag ten opzichte van keramische materialen. Het is gemakkelijk te verwerken en door de buigbaarheid van het materiaal ook goed toepasbaar op holle of bolle oppervlakken.
WeLLDesign, altijd al actief in bouwinnovatie, heeft het product PHOMI omarmd. Het product is nu in de Benelux nog vrijwel onbekend, terwijl wereldwijd jaarlijks 44.000.000m² zijn weg vindt naar diverse bouwprojecten in de wereld. WeLLDesign introduceert PHOMI nu in Nederland, in de Benelux en in West-Europa.
Volg PHOMI BENELUX op LinkedIn: https://www.linkedin.com/company/phomi-benelux/